Sims Catalogue Descriptions II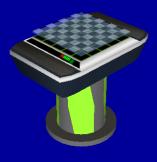 Stavitoff 123 Holochess Set
§1101
After several false starts, including the critically-panned Super Question Machine, Stavitoff Interactoff finally found their niche in advanced holography. This chess set's holographic pieces have been meticulously crafted by 47 overworked computer programmers in their cubicles and were based on the work of the great chesscrafter, Kaspar Garynov. The 123's proprietary "auto-opponent" feature is built using framework similar to BIM's famous DeepThought42 chess computer, only crammed into much less real estate. Don't stave it off... buy Stavitoff today!
Image made in Google SketchUp. Actual object nonexistent.
Posted by theniftyperson at 12:21 AM CDT